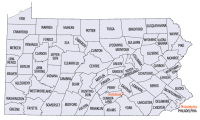 Information about Act 32 And the Pennsylvania Department of Community and Economic Development
Due to changes in Pennsylvania's Earned Income Tax legislation under Act 32 of 2008, the PSD codes have been formulated to designate each of the 69 tax collection districts, along with the school districts and municipalities therein.  Act 32 of 2008 requires that employers and tax officers utilize political subdivision (PSD) codes prescribed by DCED.  PSD codes have been designed to identify the municipalities and school districts for each tax collection district and aid in ensuring that employee Earned Income Tax withholdings are remitted and distributed to the proper taxing authority.  Legislation requires all taxing authorities that implement an Earned Income Tax to comply with all applicable regulations by January 1, 2012.  Tax Collection Districts may opt for early implementation by January 1, 2011.
York Adams Local Collection PSDs
The York Adams Tax Bureau collects Earned Income Tax for specific school districts and municipalities in the midstate. The complete list of these collection areas can be found by clicking here. This list provides the required 6-digit PSD code for all areas that YATB collects for, along with EIT and LST rates where appropriate.
Statewide List Provided By the DCED
Note: The links below lead you to pages outside the YATB.COM web site. We cannot guarantee the validity or the content of the links provided here only for your convenience. Always surf with care.